Go far beyond just a website
Performance driven websites created exclusively for auto care professionals

Trusted by hundreds of
auto care professionals
Auto Recon Sites has become the first choice website platform for all segments of the Auto Care industry, including; Paintless Dent Repair techs, body shops, detailers, mechanics and auto care professionals around the world, who love its speed, power and features.
The raw power under the hood of Auto Recon Sites will leave you amazed at how quickly and affordably you can get a performance driven website for your business. Watch your customer leads increase in real time and dive into the huge toolset, tailored to the demands of auto care professionals.
MOBILE READY RESPONSIVE WEBSITES
Get a custom Auto Care website that's optimized for all devices and integrated with the marketing tools you need to grow your business.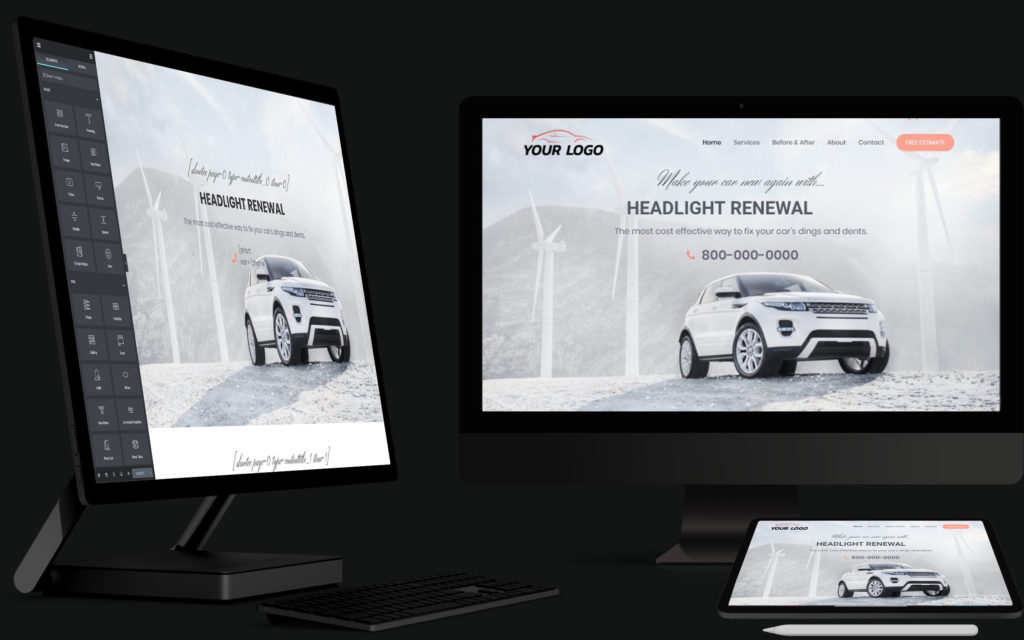 TAKE YOUR SITE TO THE NEXT LEVEL

Supercharge your website with our proven
PRO components under the hood
Designed from the ground up to specifically help auto care companies to grow quickly.
Every site is optimized to enhance its chances for top placement on Google.
Every Auto Recon Site is designed to look and function great on every device.
You're not alone. With Auto Recon Sites, we take care of you every step of the way.
For the times you just want to make a quick update yourself, you can with our easy to use PRO Editor.
With Auto Recon Sites, you can easily create landing pages for all your marketing and advertising needs.
Want to grab your customers attention? Add a pop ad to your site and catch them at just the right moment.
Auto Recon Sites has the ability to add your custom pixels wherever and whenever you need them.
Send personalized and highly targeted emails to your list in just a few moments.
Send personalized SMS notifications to your subscribers cell phones.
Manage your contacts and collect the information you need through custom forms.
Receive customer vehicle information from our easy to use PRO Estimator.
We use pipelines to manage leads, generate sales forecasts and start automations.
Create simple or complex sales funnels to guide your leads through your sales process.
Allow customers to easily choose, book and schedule their appointments online.
Manage all your customer information from a single location by utilizing our built-in PRO CRM.
No bloat, no gimmicks, just all the tools you need, implemented how you always dreamed. The Auto Recon Sites platform is a stripped back, pro-end workhorse that will always get the job done.
PRO-DESIGNED WEBSITES PRE-MADE FOR YOU
Designed for looks. Built for results.
Choose from any of our professionally designed, mobile-ready PRO templates.
We Do All the Heavy Lifting for You
Once we launch your new site, Auto Recon Sites is quick and easy to use on your own, but if you're like most auto care professionals, you barely have enough time to manage the day-to-day demands of your business –– let alone build your own website. So thats why we've created our Jump Start service, to ensure you get off to a great start. Every new Auto Recon Site requires a one time Jump Start. With our Jump Start setup service, we'll have your website up and running within 3-5 business days.
What We'll Do
Size and set your logo
Set your colors, type, and any other branding elements
Add your photos
Connect your social media profiles
Assist with connecting your custom domain name
Launch your website
Jump Starts are a required service to get you started. They're in addition to your monthly  subscription. Because of the time involved to set your site up, Jump Starts don't qualify for our 14-day money-back guarantee.

Jump Start fees are non-refundable.
Custom Work:
Need more customization? No problem, we can customize any template to your specific needs, just contact us for a quote.
AUTO RECON SITES FOR AUTO CARE PROFESSIONALS
A Professional Site.
Without the Professional Price.
Get a professional Auto Care website that's optimized for all devices and integrated
with the marketing tools you need to grow your business – right out of the box.
Unlimited Pages*

Unlimited Updates**

Live Editor

PRO SEO Tools

FREE SSL Certificate

Use Your Own Custom Domain
PRO+
Website + Marketing Automation
Everything in PRO...PLUS

Automated

Email Marketing System

Full

Marketing Automation

Messaging &

SMS Marketing
NO HIDDEN FEES. NO CONTRACTS. CANCEL ANYTIME.
* You can create unlimited pages OR have us design and build them for you for only $97 per page.
** Unlimited updates to existing content and pages.